Enrichment Chess Programs in San Diego!
Serving Rancho Bernardo, Poway, Scripps Ranch, Tierrasanta, Miramar, Allied Gardens, San Diego State, Rancho San Diego, Mt. Helix, La Mesa, San Carlos, Lemon Grove, Lakeside, El Cajon, & Santee!
Our students winning are tournaments all over San Diego!!
The recent Mountain Lake Chess Camp Tournaments held in San Diego resulted in a number of our students winning trophies in every class!
The Advanced Division was dominated by our students who took 1st-Ravi, 3rd -Edwin, and 4th-Simon!!
Ashwin won a playoff game against another Pacific Hills student to take 4th place in the Intermediate Division!
Elliot from The Cambridge School, won the Novice Division in March!
The December Mountain Lake Chess Camp Tournament held in San Diego had Cajon Park player Adam winning his first tournament in the Novice Division!
An outstanding enrichment program for your school or organization! After school programs currently available, typically 8-12 weeks each session, three times over the academic year with sessions in Fall, Winter, and Spring!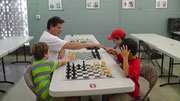 See our video!! Channel 4 San Diego has a feature on our program airing in San Diego!! 
Show #9 Segment 4
Pacific Hills Chess Academy
It's no secret chess is a great workout for your mind.  Studies have shown that chess improves cognitive thinking which in turn improves school grades, and besides, it's a lot of fun!  One after-school program is helping kids improve their lives, through this very popular board game. 
Coach Ron Wins the 2013 San Diego Chess Club Reserve Championship!!
Coach Ron: San Diego Chess
Club Reserve Champion 2013!!
Thirty one years in the making, fourteen weeks of brutal competition, one desirable result! To all my students at the Pacific Hills Chess Academy, if you want something enough,and you're willing to put in the work, you WILL be successful!!
Coach Ron
Local IM Cyrus Lakdawala interview excerpt
Here is a quote from a recent interview, December 27, 2014, with International Master Cyrus Lakdawala:  
What do you have to say about the benefits of chess in education and in life?
The benefits are numerous to children: their concentration improves, they understand the benefits of engaged study, and, most of all, they learn that mistakes have negative consequences, while virtues are rewarded.
The rest of the interview is here:  http://blog.investinchess.org/in-conversation-with-international-master-cyrus-lakdawala/
"The Evans" Method!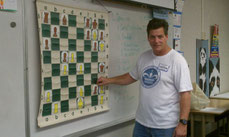 The program, dubbed "The Evans Method" by the United States Chess Federation, includes instruction, formal and casual play. Students receive prizes at the end of each class to reward positive participation and trophies or medals at the end of each session. Their program (once featured on The Tonight Show) has produced national champions at every scholastic level.

Beginners are welcome! Chess is a great workout for the mind utilizing continuous problem-solving with changing conditions. Students learn to think ahead, evaluate multiple alternatives and anticipate consequences. They improve spatial reasoning, visual memory and attention span while learning good judgment, reasoning power and self-confidence. Studies have shown that chess improves cognitive thinking which in turn improves school grades.